Many secrets are waiting for you in Zodiac Sign Dates and Meanings! Do not miss the opportunity to discover yourself, your partner or anyone around. If this issue is stimulating your curiosity, let's consult this article "Zodiac Sign Dates and Meanings"!
Let us find out the dates of Zodiac Signs!
Do you want to find out some traits of yourself? Do you want to know your partner deeply? Do you want to know more about your friends?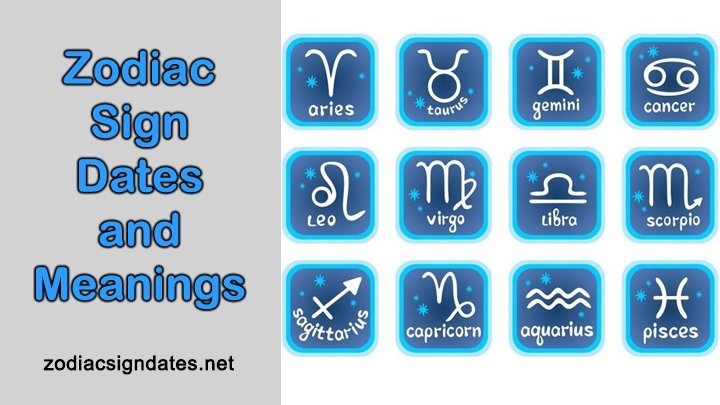 If you are curious to know these things, the first thing you need to have is dates of births because they will correspond with all of the 12 astrological signs including Libra, Scorpio, Sagittarius, Capricorn, Aquarius, Pisces, Aries, Taurus, Gemini, Cancer, Leo and Virgo. Do not hesitate to check the following Star Sign Dates and get your sign:
Libra – September 23rd and October 23rd
Scorpio – October 24th and November 21st
Sagittarius – November 22nd and December 21st
Capricorn – December 22nd and January 19th
Aquarius – January 20th and February 18th
Pisces – February 19th and March 20th
Aries – March 21st and April 19th
Taurus – April 20th and May 20th
Gemini – May 21st and June 21st
Cancer – June 22nd and July 22nd
Leo – July 23rd and August 22nd
Virgo – August 23rd and September 22nd
Let us find out the meanings of Zodiac Signs!
Before finding out the meanings of Zodiac Signs, we will divide all of the 12 signs into 3 groups. The names of 3 groups will be The Cardinal Signs, The Fixed Signs and The Mutable Signs.
The Cardinal Signs (Cancer, Aries, Capricorn and Libra)
4 signs like Cancer, Aries, Capricorn and Libra will be listed as the Cardinal Signs. They are known as ambitious and dynamic individuals. They always try to fulfill their plans and projects in the career. They tend to become leaders in groups or organizations. Other people like to work, talk and communicate with them because they are friendly and dynamic. They are always eager to start new things with their joyful soul and happy mind.
The Mutable Signs (Virgo, Sagittarius, Pisces and Gemini)
The word "Mutable" can be understood as "change". If people are listed as the Mutable signs, they are known as adaptable, changeable and flexible. With these characters, they can adapt to any circumstances easily in the life. Different perspectives of life can be seen under their colorful eyes. They are also creative and innovative.
Are you inquisitive about getting some information from the article "Zodiac Signs Dates and Meanings"? Don't hesitate to keep in contact with us by completing the box here and submitting your questions. We are happy to take the answers instantly to you.
---